Unfortunately this event is canceled due to COVID-19.
DJ CO2, djSPUD and Baroeg are proud to present a new edition of Donward Spiral Classics! On March 21st 2020 DJ CO2 and djSPUD will make you relive the popular electro industrial gothic new wave dancnights of the naughties. Be sure to enjoy a night full of classic hits from bands like Suicide Commando, Hocico, Blutengel, Covenant, VNV Nation, Marilyn Manson, Rammstein, Nine Inch Nails, Mesh, etc. And just like in the old days, now and then the DJs will put on an odd little record that is less known but needs to be heard as well.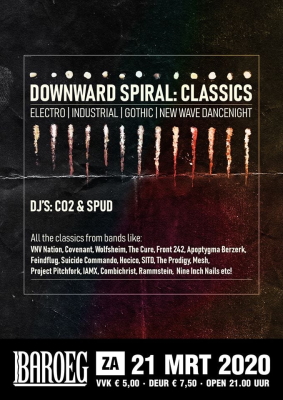 So come and join us and be guaranteed of an evening full of music that simply forces you on the dancefloor. The dancenight takes place at the Baroeg, Spinozaweg 300, 3076 ET Rotterdam, on March 21st 2020, starts at 21:00 and the entry fee is 7,5 euro. But if you want to save some money or simply be certain to grab a ticket you can buy a ticket in presale for only 5 euro here.